Home
Sacrament of Reconciliation:
Mon.—Fri. 7:45am—8:15am
Sat. 3:30pm—4:15pm

Holy Masses:
Mon.—Fri. 8:30am
Sat. 4:30pm
Sun. 8:30am & 10:30am
09:00AM to 03:00 PM Monday-Friday
April
28th Bingo- Team Green -Caller Ed
29th Council 11348 Officer Planning Meeting 7:30pm
30th K of C Keep Brevard Beautiful 9am
30th First Holy Communion Practice 10:30am
30th Parish Dinner- Roasted Chicken
30th K of C Essay Contest Concludes
May
1st
Sunday Classes, 09:40-10:20am
1st First Communion at 10:30am Mass
2nd Litgury committee meeting- 6pm
3rd K of C Council 11348 Social "Taco" Night 07:30pm
5th
Bingo-
Team Orange
-Caller Robert
8th Meeting for Ministry to the sick- 11am
8th Mothers Day
8th May Crowning of the Blessed Virgin Mary, 10:30am Mass
10th
K of C Council 11348 Business Meeting 7:30PM
12th Bingo-

Team Red

- Caller Tabetha
17th K of C Assembly 2586 Business Meeting 7:30PM
19th
Bingo-
Team Blue
-Caller Robert
21st Flea Market
24th Outdoor May Crowning
26th Ascension of Jesus
26th
Bingo-
Team Green
-Caller Ed
28th Parish Dinner- Lasagna
30th Memorial Day
31th Council 11348 Officer Planning Meeting 7:30pm
WEEKLY MASS INTENTIONS
If you have placed a mass intention, it is customary for the requester to present the gifts during mass. If you wish to do so please contact the sacristan in the back of the church prior to the mass beginning.
TUES May 10th
8:30am: + Due & Hao Thi Hoang
WED May 11th
8:30am: + Rosemarie McClave
THU May 12th
8:30am: + Sheila Pirinelli
FRI May 13th
8:30am: People of the Parish
SAT May 14th

4:30pm: + Ryan Boyle
SUN May 15th
8:30am: + Frank Mangione
10:30am: + Linda Lake

MON May 16th

8:30am: Sp Int for Samantha Clouser
TUES May 17th

8:30am: + Peter Due Hoang & Matta Hao T. Hoang

WED May 18th

8:30am: + Robert Wintermyer

THU May 19th

8:30am: People of the Parish

FRI May 20th

8:30am: + Matt Hoang T. Khuyen

SAT May 21st

4:30pm: Sp Robert Wintermyer

SUN May 22nd

8:30am: + Dc Richard & Marge Basso

10:30am: + Arthur Deithorn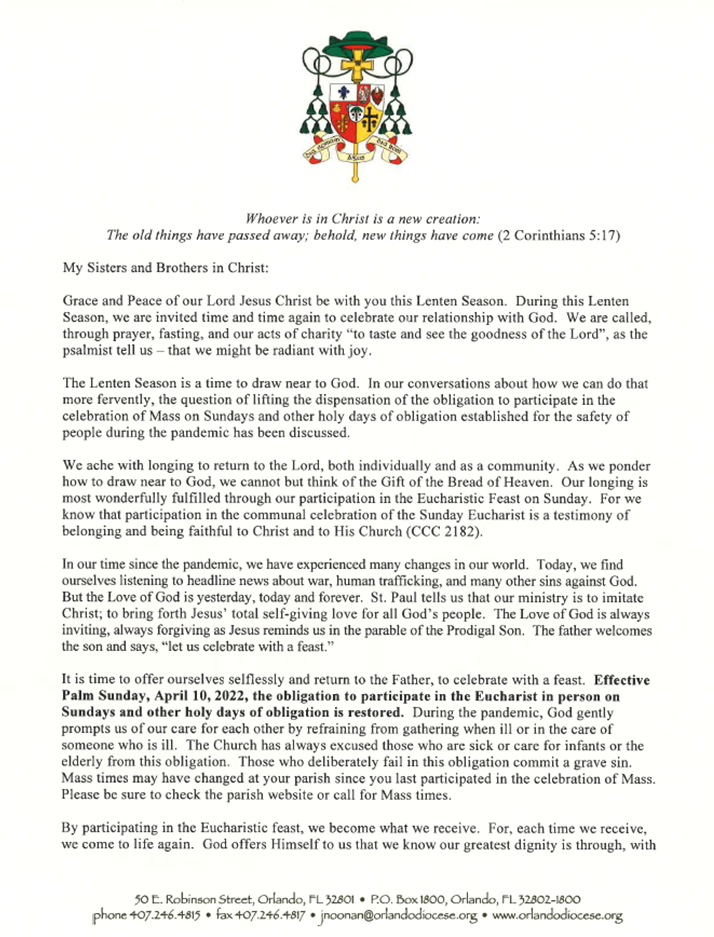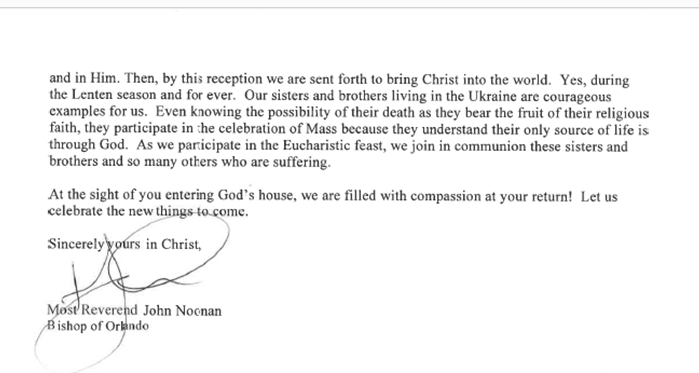 Early bird Bingo starts at 5:15 Regular Bingo starts at 6:30
Blessed Sacrament Catholic Church is located at 5135 North Cocoa Blvd. in Cocoa, Florida. Our parish was founded in 1967 and has served the people of North Brevard for over 50 years. Ground breaking ceremonies for the church were held in 1969 and the first mass was celebrated on Easter Sunday, April 6, 1969. Over the years the people of Blessed Sacrament have worked hard to create a loving, welcoming environment where all are welcome. Come celebrate with us.
Dear Parishioners,
Grace and Peace of our Risen Christ be with us. ​​​​​​​
We have to follow social distancing. Families could sit together. You may use masks.
Communion only on hands... we have to follow the rules.​​​​​​​
See you soon and God bless you,
Fr. Mark Sarniewicz, SDS​​​​​​​
Let us continue to pray for our country and the world and to put our trust in God.