Home
New page for Greeters, Lectors, Altar Servers, EM's, Sacristans

Sacrament of Reconciliation:
Mon.—Fri. 7:45am—8:15am
Sat. 3:30pm—4:15pm
Holy Masses:
Mon.—Fri. 8:30am
Sat. 4:30pm
Sun. 8:30am & 10:30am
09:00AM to 03:00 PM Monday-Friday
January


13th Bingo, K of C Team
15th Flea Market & Youth Group car wash
16th Religious Ed Classes
18th K of C Assembly 2586 Business Meeting
22nd K of C Park Cleanup
23rd Circle of Grace student class

es
25th K of C Council 11348 Officer Planning Meeting
29th Parish Dinner- Fish & Chips
30th Circle of Grace student classes


WEEKLY MASS INTENTIONS
SAT Jan 8th
04:30PM + David Macko
SUN Jan 9th
08:30AM + Beulah Baker
10:30AM + Maria Jimenez
+Fransisco Releonardo
+Miguel Nigel Lora
MON Jan 10th

08:30AM + Robert & elizabeth Scannell

TUES Jan 11th

08:30AM People of the Parish

08:30AM Sp Int for Wes Henry
THURS Jan 13th

08:30AM People of the Parish
FRI Jan 14th

08:30AM +Theresa Patt

SAT Jan 15th

04:30PM + Brian Vialva

SUN Jan 16th

08:30AM + Deacon Richard & Marge Basso

10:30AM + Bonnie Quenzler/Gann

+Fransisco Releonardo
+Miguel Nigel Lora

TUES Jan 18th

08:30AM + Russ Bennett

08:30AM + Steve Adams

THURS Jan 20th

08:30AM People of the Parish
FRI Jan 21st

08:30AM + Matteo Morelli

SAT Jan 22nd

04:30PM Sp Int for the Meyer Family

SUN Jan 23rd

08:30AM Sp Int in Thanksgiving for the Crus Family
10:30AM + Francis Hoying


Early bird Bingo starts at 5:15 Regular Bingo starts at 6:30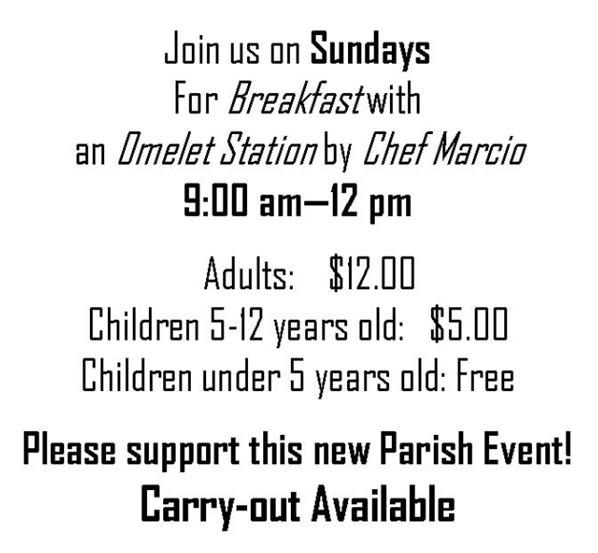 Blessed Sacrament Catholic Church is located at 5135 North Cocoa Blvd. in Cocoa, Florida. Our parish was founded in 1967 and has served the people of North Brevard for over 50 years. Ground breaking ceremonies for the church were held in 1969 and the first mass was celebrated on Easter Sunday, April 6, 1969. Over the years the people of Blessed Sacrament have worked hard to create a loving, welcoming environment where all are welcome. Come celebrate with us.
Dear Parishioners,
Grace and Peace of our Risen Christ be with us. ​​​​​​​
We have to follow social distancing. Families could sit together. You may use masks.
Communion only on hands... we have to follow the rules.​​​​​​​
See you soon and God bless you,
Fr. Mark Sarniewicz, SDS​​​​​​​
IMPORTANT UPDATE: The Thrift Store is OPEN​​​​​​​

Let us continue to pray for our country and the world and to put our trust in God.