Home
Sacrament of Reconciliation:
Mon.—Fri. 7:45am—8:15am
Sat. 3:30pm—4:15pm
Holy Masses:
Mon.—Fri. 8:30am
Sat. 4:30pm
Sun. 8:30am & 10:30am
New Office Hours - 09:00AM to 03:00 PM Monday-Friday
October

11th K of C installation of Officers
12th K of C Council Meeting
13th David Calkins funeral
14th Wayne Spurlock funeral
14th Bingo Red Team
16th Church Flea Market
16-17 K of C Fall Membership Drive
17th K of C Corporate Communion at 10:30 Mass
17th K of C Raffle Concludes
19th K of C Faternal Benefits Nite/ open meeting
23rd Trunk or Treat - setup at 06:00----starts at 06:30
24th K of C Officer/Planning Meeting
25th Liturgy Committee-06:00pm
30th Parish Dinner-Meatloaf

WEEKLY MASS INTENTIONS
SAT Oct 9th 04:30PM Sp Int. for Rosemarie Caracciolo
SUN Oct 10th 08:30AM + Colonel Marvin Lee Jones
10:30AM Sp Int. for Blessed Mother,
Queen of Peace
MON Oct 11th 08:30AM Sp Int for Rosemarie Caracciolo
WED Oct 13th 08:30AM People of the Parrish
THURS Oct 14th 08:30AM + Ward Garee
FRI Oct 15th 08:30AM + Louise Walsh
SAT Oct 16th 04:30PM + Jack & Lorraine Simpson
SUN Oct 17th 08:30AM + Daniel Walsh
10:30AM Sp Int for Rosemarie Caracciolo
Come join us for
Trunk-Or-Treat!
Saturday, October 23rd
Come participate in a Halloween event hosted at Blessed Sacrament Church by the Youth Group. Trunk-Or-Treating starts at 6:30 and goes until 7:30. There will also be a Costume Contest.
For those who are wanting to set up a Trunk, Trunk-Or-Treat setup will start at 6 PM. The Blessed Sacrament Youth Group will be able to help in setting up and taking down the trunks. We ask that you bring and hand out your own candy.

Early bird Bingo starts at 5:15 Regular Bingo starts at 6:30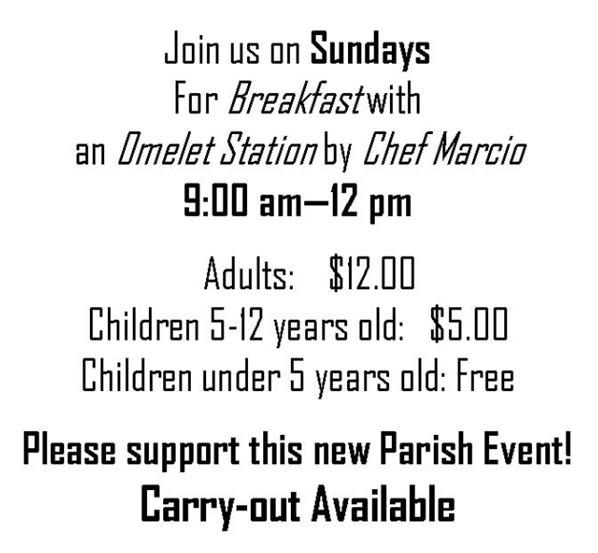 Blessed Sacrament Catholic Church is located at 5135 North Cocoa Blvd. in Cocoa, Florida. Our parish was founded in 1967 and has served the people of North Brevard for over 50 years. Ground breaking ceremonies for the church were held in 1969 and the first mass was celebrated on Easter Sunday, April 6, 1969. Over the years the people of Blessed Sacrament have worked hard to create a loving, welcoming environment where all are welcome. Come celebrate with us.
Dear Parishioners,
Grace and Peace of our Risen Christ be with us. ​​​​​​​
We have to follow social distancing. Families could sit together. You may use masks.
Communion only on hands... we have to follow the rules.​​​​​​​
See you soon and God bless you,
Fr. Mark Sarniewicz, SDS​​​​​​​
IMPORTANT UPDATE: The Thrift Store is OPEN​​​​​​​

Let us continue to pray for our country and the world and to put our trust in God.